Massage is the use of hands, to manipulate the soft tissue of the body.  Massage is not just an indulgent luxury; it can be used for relaxation, stimulation or rehabilitation of the whole body or part of it. It has countless therapeutic benefits, from relieving stress to boosting your immune system.
50 minutes session.  Cost £45.00
80 minutes session.  Cost £55.00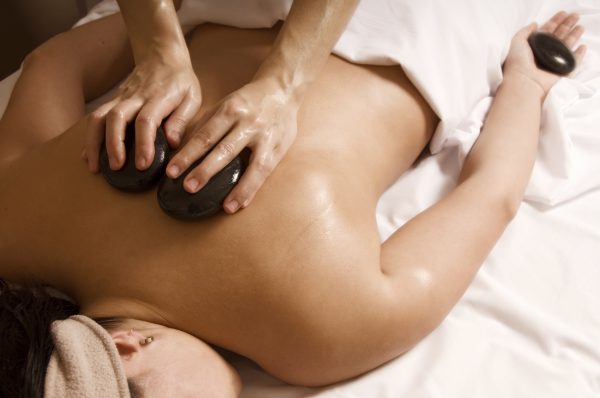 Hot Stones Massage is a wonderful massage technique using smooth, water heated basalt stones.  The heat from the stones feels great and is also wholly therapeutic helping relax the body which can have a positive effect on the nervous system.
Hot stones –  50 minutes.  Neck, back and shoulders.  Cost per session £45.00
Hot stones – 80 minutes.  Full body treatment.  Cost per session £55.00
Indian Head Massage is a simple but very effective treatment that relaxes both mind and body and helps recharge depleted energy levels. It is applied through the clothes, to a person in a seated position and it incorporates the upper back, shoulders, arms, head and face. No oils or special equipment is needed.
30 minutes session.  Cost £35.00
Reflexology works on the principal that there are 10 energy zones that run the length of the body from head to toe.  When stimulating or "working" any zone in the foot by applying pressure, it can affect the entire zone throughout the body.  This therapy is applied normally on the feet, but can also be applied on the hands.  One of the most important benefits of reflexology is its efficacy in reducing stress by inducing deep relaxation, thereby allowing the nervous system to function normally and free the body to seek its own balance.
45 minutes sessions.  Cost £35.00
Japanese Holistic Facial Massage is a unique facial therapy that has been known as a non-surgical face lift. Eastern principles view that beauty is more than just skin deep and along with Japanese tradition, it is used as a preventative therapeutic treatment and aims to encourage relaxation and bring about balance in the body.  This treatment includes gentle facial cleansing, exfoliation and a hydrating mask, followed by a deep and relaxing massage of the neck and every muscle on your face to encourage circulation and reduce muscle adhesions, that may be the cause of premature wrinkles.
45 minutes sessions.  Cost £45.00
Reiki is a soothing and relaxing therapy where the practitioner places her hands over or on various areas of the body.  It is said that Reiki can work like a thermostat in the body, by improving the flow of energy around the body and enabling relaxation. One of the most common Reiki health benefits is stress reduction, which can trigger the body's natural ability to repair, may aid in better sleep and improve and maintain health.
During a Reiki treatment, you will be fully clothed and either lying down or sitting on a chair.  There is no massage or manipulation.
45 minutes sessions.  Cost £35.00
Allow your body and mind to rest and repair.